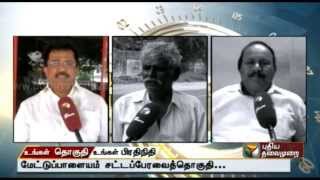 Ungal Thoguthi Ungal Pradhinithi 14-09-2015 "Mettupalayam" – Puthiya Thalaimurai TV Show
Ungal Thokuthi Unkal Prathinithi 14-09-15 – Puthiya Thalaimurai TV Show
Ungal Thoguthi Ungal Prathinidhi Puthiya Thalaimurai tv Program :What did your representative do and failed to do ? A detailed report by Puthiyathalaimurai straight from the scene of action.
Mettupalayam is a legislative assembly constituency in the Indian state of Tamil Nadu.
Mettupalayam is a taluk of Coimbatore Rural district, located to the north of the city of Coimbatore on the way to Ooty. It is located in the foot hills of Nilgiri hills about 38 km north of downtown Coimbatore, in the Indian state of Tamil Nadu. Mettupalayam is the third largest township in the district and one of the fast developing suburbs on the northern side of Coimbatore. As of 2011, the town had a population of 66,595.
According to 2011 census, Mettupalayam had a population of 69,213 with a sex-ratio of 1,022 females for every 1,000 males, much above the national average of 929. A total of 6,808 were under the age of six, constituting 3,543 males and 3,265 females. Scheduled Castes and Scheduled Tribes accounted for 14.76% and .08% of the population respectively. The average literacy of the town was 77.11%, compared to the national average of 72.99%. The town had a total of 18423 households. There were a total of 26,595 workers, comprising 147 cultivators, 437 main agricultural labourers, 704 in house hold industries, 23,870 other workers, 1,437 marginal workers, 8 marginal cultivators, 60 marginal agricultural labourers, 92 marginal workers in household industries and 1,277 other marginal workers.