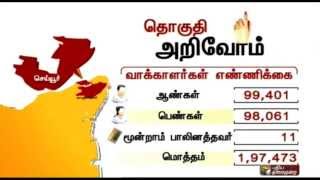 Thoguthi Arivom "Seyyur / Cheyyur" 11-09-2015 Puthiya Thalaimurai TV Show
Thoguthi Arivom – In this section each day facts regarding an assembly constituency would be provided. Today data regarding the "Seyyur / Cheyyur" constituency is being presented
Cheyyur is a state assembly constituency in Tamil Nadu, India newly formed after constituency delimitation. It is included in the Kancheepuram parliamentary constituency.
Cheyyur taluk is a taluk of Kanchipuram district of the Indian state of Tamil Nadu. The headquarters of the taluk is the town of Cheyyur.
According to the 2011 census, the taluk of Cheyyur had a population of 203,719 with 102,128 males and 101,591 females. There were 995 women for every 1000 men. The taluk had a literacy rate of 66.68. Child population in the age group below 6 was 9,587 Males and 9,070 Females.
Cheyyur,near chennai is a quaint village situated 29 km from Madurantakam, at Chengalpattu in Kanchipuram District of Tamil Nadu. This tiny hamlet was earlier called Jayamkonda-Cholapuram, Seyyur and Belapuri. In the early days, this area was a dense forest and kept as a reserve for the Chola kings to hunt.
An ancient temple called Cheyyur Shiva Temple, 800 years old, constructed during the reign of the Chola kings, is the major attraction. Near the Shiva Temple is another shrine dedicated to Lord Muruga as an infant. In Tamil 'Sei' denotes 'infant' and the name of the village (Seyyur, later Cheyyur) is derived from this fact.
Chennai International Airport and Chengalpattu Junction Railway Station serve this area. Visitors can access Cheyyur from Madurakantam, which can be reached by road either from Chennai or Chengalpattu. Private taxis and regular buses are available from Madurakantam to Cheyyur and 7 km from ECR, Cheyyur is located 65.7 km distance from its District Main City Kanchipuram Cheyyur Pin Code is 603302 . The Government of India has proposed to develop a 4000 MW Ultra Mega Power Plant (UMPP) at Cheyyur .