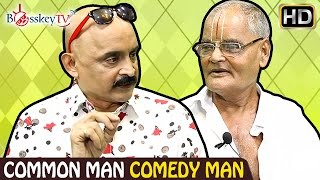 Hindu Narasimhan about his Catering services | Chennai Caterer | Common Man Comedy Man | Bosskey TV
'Hindu' Narasimhan as he is popularly known; common man Narasimhan shares his experiences in the Catering Business. Common Man Comedy Man show is a Bosskey TV exclusive!
Narasimhan worked as a caterer for "The Hindu" Newspaper group. Narasimhan is a self-made, popular and much sought after caterer for all wedding and social celebrations. He talks about the competition that goes in his business and goes on to explain the nuances of the business. In spite of all the hurdles and obstacles he had faced in his life and more particularly in his business he is always ever cheerful and extremely quick witted. His wry humour keeps him on top of his competitors and is a real toast for those who interact with him. Narasimhan's very own patented 'Sambhar' is considered to be a connoisseur's delight!
Common Man Comedy Man, as the title suggests, identifies talent of a common man from all spheres of life and brings out their lighter side.