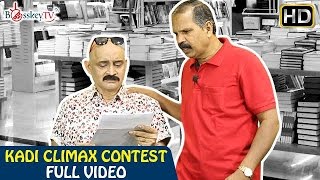 Bosskey Reads a Kadi Letter | Kadi Climax Contest | Full Video | Bosskey | Prasad | Bosskey TV
Today's Kadi Climax Contest full video! – Bosskey reads a Kadi Letter. This is a Bosskey TV exclusive featuring Bosskey and Prasad.
Bosskey is reading a letter written by someone. Prasad who reads the letter with Bosskey is confused as to why there are a lot of mistakes in it. He asks if the writer is an educated guy. Bosskey says that the writer is uneducated. However, Prasad asks Bosskey how he could say that the writer is uneducated when he has so many degrees to his name.
Bosskey reveals the answer in this video. Check now!