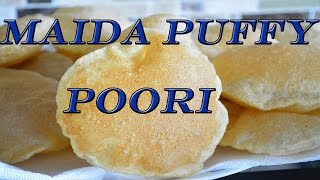 Maida Puffy Poori | Puri with Maida recipe in Tamil
Poori is a south Indian breakfast recipe. Today we will learn how to make soft, crispy and puffy puri recipe.
Usually puri/poori dough is made out of wheat flour or atta. but today I am using maida to make Poori / puri. its called as Luchis in bengali. Lets see how to make puffy poori …
Ingredients
Maida or all purpose flour – 1/2 kg
Rice flour – 2 tsp
Corn flour – 2 tsp
Rava – 2 tsp
sugar – 2 tsp
Salt
Oil – 3 tsp ( for dough)
Hot water – 2 cups
Method :
1) add all the flour, sugar, salt and Mix well.
2) Mix well to incorporate all the oil into the flour.
3) Add a hot water at a time and knead to form a dough.
4) Once the dough is ready,divide the dough into small balls.
5) Take one ball and roll it into a nice, smooth round ball with the palm of your hands and press it flat.
6) Roll it out with a rolling pin to form even round discs.
7) Heat the Oil.
8) Once the Oil is very hot, gently slide the Puri.
9) gently press on one side with a frying ladle. This will help the Puri to puff up.
10) Flip the Puri and cook on the other side till golden brown
11)Scoop the Puri to the side and drain out all the excess oil
12) Remove the Puri and put it on an absorbent paper towel
13) Repeat the process with the rest of the dough balls.
13) Serve with Tomato chicken.
Maida puffy puri recipe in tamil | Poori breakfast recipe | how to make puffy poori | how to make crispy puri | Luchi making video |
Homemade poori recipe