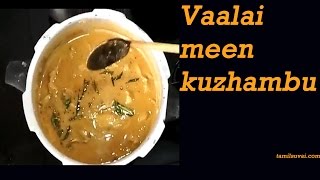 Kanyakumari Vaalai Meen Curry | Vazhai Meen Kolambu | Sword fish Curry | Vaala meen kulambu | vallai Meen kuzhambu | Fish curry in Tamil
Ingredients
Vaalameen / Vazhai Meen – 1/2 kg
Coconut flower – 1/4 cup
Garlic – 1 full
small onion / Shallot – 25
Curry leaves
Salt
Fish curry powder – 2 tsp
For Seasoning:
oil 1 teaspoon
Mustard Seeds 1/2 teaspoon
Fenugreek 1/2 tsp
Curry Leaves few
Method :
1. blend the Coconut flower, smalll onion, Fush curry powder and make it as a pate.
2. take the vaalai meen in a pan / maanchatti / cooker and add the masala paste, garlic, curry leaves , salt and water.
3. swtich on the stove and cook for this around 20 mins.
4. once fish cooked well, add these seasoned ingredients to the fish curry mixture.
5. The tasty Kanyakumari vaalai Meen Kulambu is now ready to serve.