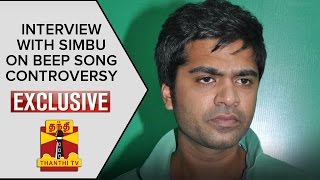 Exclusive Interview with Simbu About Beep Song Controversy
Exclusive Telephonic Interview with Simbu About Beep Song Controversy – Thanthi TV
In his interview he said that
– Anirudh is no way involved with Beep Song
– Clueless about Lyricists criticism against unreleased Song
– How will I use this song for Publicity during Floods Situation..!!
– My well Wishers will help me get out of this Legally
– Beep Song is not against Women
Actor R. Silambarasan alias Simbu and young music composer R. Anirudh for indecent representation of women in their infamous Beep song.
While Anirudh denied composing the song, Simbu, who is seen in the video seemingly mouthing expletives that are beeped out, claimed that the song was meant for his private consumption. The video, he claimed, was leaked.
Nonetheless the lyrics objectionably describing a woman's private parts caused widespread outrage.