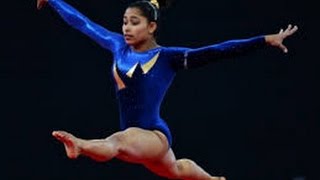 Female Gymnast Dipa Karmakar qualifies for Vault Finals in Rio Olympics
She dropped to 8th eventually when Canadian Shallon Olsen's terrific effort of 14.950 rejigged the overall standings.
But that was just about enough to secure her a place in the finals scheduled for August 14 as the top-8 made the cut for the medal round.
Dipa secured 7.000 on difficulty and 8.1 on execution in her first attempt. Her score for difficulty was a tad lower at 6.000 in the second attempt.
She landed low on her Produnova vault in the first attempt, while her second vault was a 'Tsuk double full twist' with step to the side.
More Video's from this Category: News