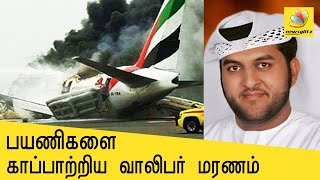 Emirates Plane Crash : Man dies after rescuing 282 passengers | Flight Accident Crash Video
துபாய் விமான விபத்தில் 282 பேரை காப்பாற்றிய தீயணைப்பு வீரர் மரணம்
The firefighter was Jasim Issa Mohammed Hassan from Ras Al Khaimah. A firefighter from the airport civil defence died during the firefighting operations after an Emirates aircraft caught fire while landing at Dubai International airport. "This Boeing 777 flight was carrying 282 passengers with 18 crew members on board.
More Video's from this Category: News
Comments (1)